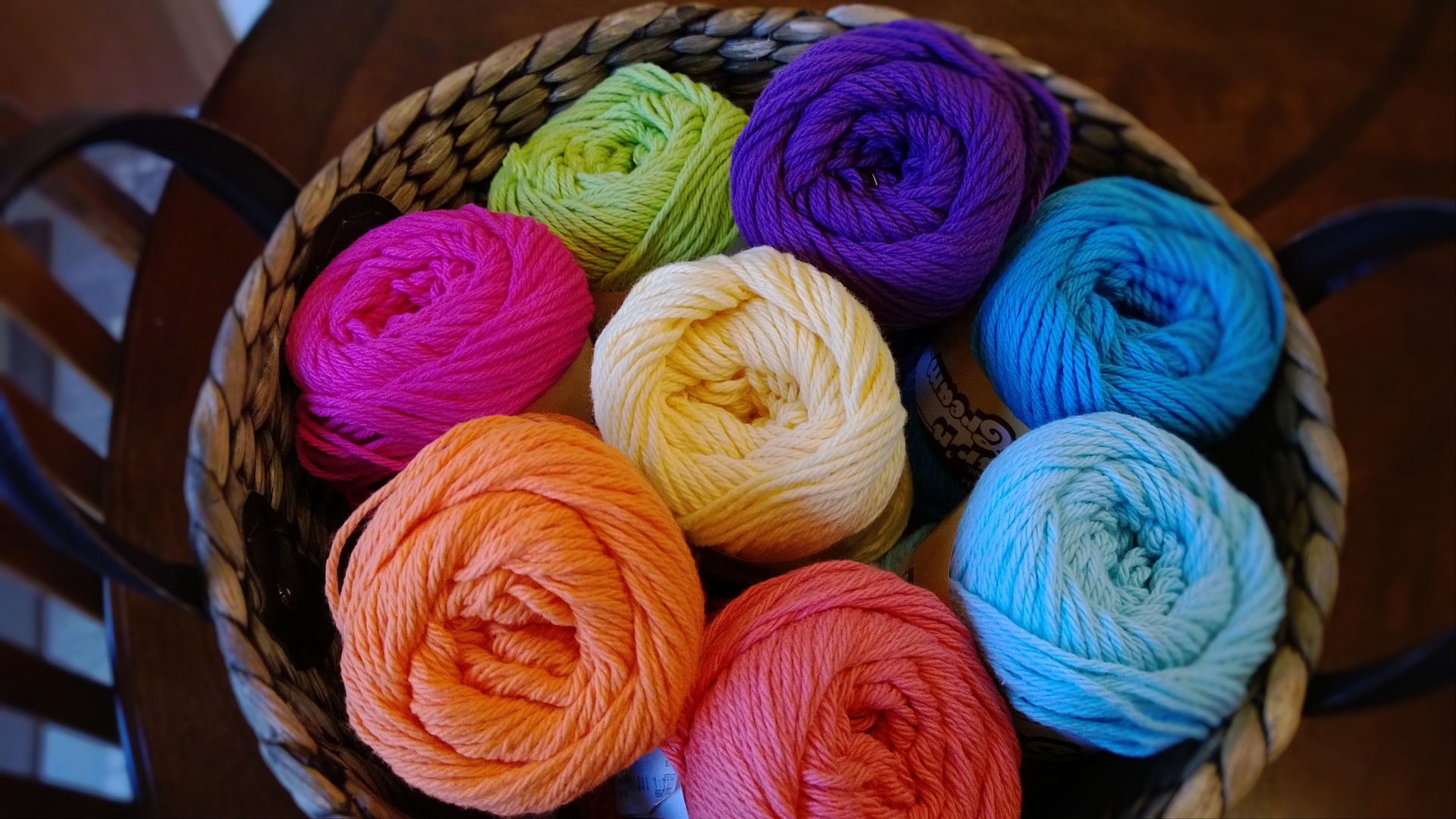 Guest article provided by: smart-knit-crocheting.com
Are you thinking about learning a new skill that will develop into a fulfilling hobby?  Many people today grew up with a parent or grandmother who knits or crocheted, but in today's world, these hobbies are not limited to older people.  Many men and women discover how fulfilling it is to create something with one's own hands.  It's also been documented that needlework can be good for you.  Not only can it become a social activity, but it is also suitable for eye-hand coordination, agility, and strength. The repetitive movements of knitting and crocheting also release serotonin which improves mood and sense of calmness.
Perhaps you are wondering whether you might like to pick up knitting or crochet?  But which one?  Both make excellent hobbies, but there are some differences, and we will look at each individually and then compare them to see which one (or both) would be best for you.
Knitting
Knitting has been around for a very long time but has lately enjoyed a resurgence of interest from people of all ages, both men and women.  Knitting is done on two sticks called needles and is relatively easy to learn.  There are only two stitches to master, the knit and the purl stitch, and once you have learned those two stitches, you can create a wide variety of different patterns.  This hobby is not expensive to begin, and all you need is a pair of knitting needles, some yarn, scissors, and a yarn or tapestry needle.
People often choose knitting because they love the feel of the yarn and would like to make a garment such as a sweater for themselves or a loved one.  Clothing is just one thing that you can make with knitting.  Household items, accessories, and even toys can be knit.   While the basics are easy to master, going beyond the beginner stage takes a bit more effort, and the learning curve to become a master knitter can be steep.
Crocheting
You will need a crochet hook, some yarn, and scissors to crochet.  More basic stitches are involved in learning to crochet, including single crochet, double crochet, half double crochet, slip stitch, and treble crochet.  It may seem as though crochet is more difficult because there are more stitches to master, but each stitch is very similar to the next, so don't let that dissuade you from this hobby.  
A few more differences beyond the crochet hooks and knitting needles include the amount of yarn needed and the types of projects you can create.  Crocheting takes about 1/3 more yarn than knitting, but that can be relative based on the kind of project and the crocheter's style and tension.  Many people choose crochet because it can be faster to complete a task.  Crochet lends itself nicely to objects that work up fast and can be used around the house.  It is not limited to washcloths and pillows, though.  Clothing and accessories for the entire family can be created entirely by crochet.
What are the Differences
Crochet:
Uses a hook

Basic crochet has only one live stitch on the hook 

Faster to crochet

Easier to correct mistakes

Great for household items, toys (Amigurumi), clothing, and accessories

It uses a bit more yarn than knitting

More portable (Easier to take on an airline, for example)

Many

sources

suggest that crochet is easier to learn than knitting
Knitting:
It uses different tools, such as a pair of knitting needles, a circular needle, or a set of double-pointed needles.

Takes less yarn

Must manage many live stitches on the needles, which means that stitches can be lost easier than in crochet

Requires beginners to learn two basic stitches

After learning the basics, you can create elaborate designs with multiple colors and textures

More complex and time-consuming to correct mistakes

Many knitting projects are very challenging, making them perfect for a detail-oriented person
Similarities between Knitting and Crocheting
Both use the same kinds of yarn

There is a learning curve for both hobbies

You will need to develop a certain amount of muscle memory to become proficient

Each has its vocabulary to master

Time is required to become a master at either knitting or crocheting
Which One Should You Choose?
Why choose one over the other?  Many people love both hobbies.  As you begin your journey into knitting and crocheting, you will find that both offer countless opportunities to create beautiful objects.  Knowing both skills also ensure that you won't be limited in your choices if you locate a pattern you must try.  
Many projects require both skills to complete.  For example, you might knit a lovely woolen scarf and finish it off with a lacy crocheted edging. 
There is no reason to choose one over the other, and hobby enthusiasts will likely want to investigate both.  With that said, it might be a good idea to choose one and learn the basics before moving on to the next.  Simultaneously learning both can become confusing, especially if you are also trying to understand the vocabulary or decipher patterns.
If you become serious with either crochet or knitting or both, you might want to branch out and see if you can make money with your craft.  There are numerous ways to do this, and selling your finished projects is just one way.  You may discover you are good at teaching others or designing patterns.  Print and online magazines pay people to knit or crochet their features and purchase well-written patterns from experienced designers. Creating your own website like this one is one way to combine your passion for hobbies and writing, or you may decide that being a technical editor can be a very fulfilling career.  The possibilities are numerous.
Last Words
Both knitting and crocheting can become enjoyable hobbies with many added benefits to those who partake.  Some differences between the two should be considered before investing in supplies and tools.  Learning both is a real option that can bring great satisfaction but mastering the basics of one before trying the other is encouraged.
Author Bio
Janice is an enthusiastic knitter and crochet lover.  She likes to spend time with her family and dogs when not creating something.  You will find her sharing her skills and knowledge of these beautiful pastimes at her website Smart Knit Crocheting.